With the release of the full 2014 Saskatchewan Jazz Festival schedule we can finally get a look at what's going on at the Bassment, which is once again serving as the festival's stronghold for all things jazz. Since the big-ticket main stage at the Bessborough isn't playing host to any jazz megastars this year (like last summer's visits from Herbie Hancock and Dr. John), let's investigate the Bassment lineup to see where we're getting a heavier dose of swing, fusion, and a dash of indie and world music.
An interesting note: five out of the nine shows headlining the Bassment this year feature women front and centre. It's refreshing to see that the majority of the high-profile jazzers performing at the club during the festival are some seriously talented women.
---
Jane Bunnett & Maqueque
Friday, June 20 — 7:00 & 9:30
First up is Jane Bunnett, the multiple Juno Award winning Canadian saxophonist with a flair for Afro-Cuban jazz, and her current band, Maqueque. Maqueque consists of "the finest young women musicians in Cuba", so if you're into Latin grooves, you can't go wrong with a band that's coming straight from the source.
Jane Bunnett has introduced a lot of Great Cuban musicians to North American audiences over the past couple of decades, including Dafnis Prieto, Yosvanny Terry, Pedrito Martínez, and David Virelles. Now she has assembled an exciting new sextet featuring the finest young women musicians in Cuba. Maqueque consists of Jane + virtuoso drummer Yissy García, dynamic percussionist Dayme, Yusa on tres guitar and fretless bass, pianist Danae, and Magdelys on batás and congas.
---
Laila Biali Quartet
Saturday, June 21 — 7:00 & 9:30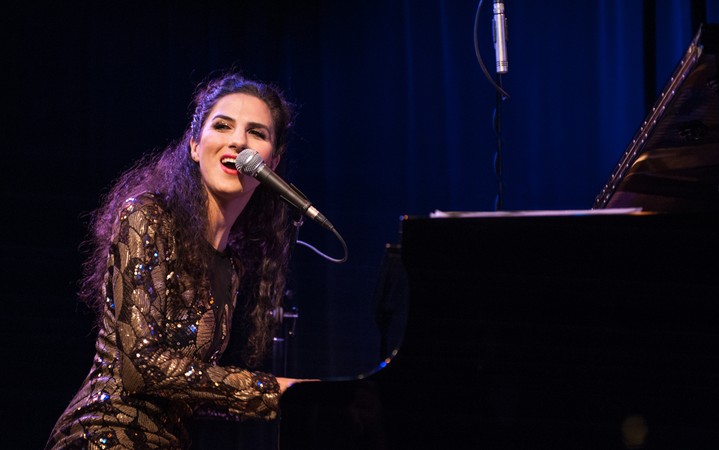 Laila Biali is another award-winning Canadian musician with a gorgeous voice and some mean piano chops. Her jazzy style sits alongside flavours of pop, rock and soul to create hip, high-energy, contemporary performances. She'll be signing and playing piano backed up by her quartet.
Award-winning Canadian Jazz pianist and vocalist, Laila Biali, has been garnering not only national attention but world-wide recognition for her music which she has performed at prestigious venues spanning five continents, including the North Sea Jazz Festival, Tokyo's Cotton Club, Peru's El Festival Internacional de Lima, and Carnegie Hall in New York City. She has toured with Grammy award-winners Chris Botti, Paula Cole and Suzanne Vega, and recorded with and supported international icon, Sting.

Laila takes the best of pop, rock, classical, world and soul, informs it with her Jazz expertise, and weaves it all into her musical arrangements. Her latest studio recording, Tracing Light, received a JUNO nomination for "2011 Best Vocal Jazz Album of the Year" and her most recent release, Live in Concert, received an enthusiastic 4-star review in DownBeat Magazine and was named one of the "Best Albums of 2013."
---
Christian McBride Trio
Sunday, June 22 — 7:00 & 9:30
A hugely successful bassist from Philadelphia, Christian McBride is jazz heavy-hitter. He's put his virtuosic chops to the test in studio and on stage with some of the genre's biggest names, and yet his music and his style are accessible even the non-diehard jazz fans.
It's not simply his abundant virtuosity that has made Christian McBride the most in-demand bassist of his generation. McBride consistently combines his deft musicianship with an innate ability to communicate his enthusiasm to an audience. Any time that McBride steps into the studio or onto a stage he plays what could be called "people music," but it's a particularly apt title for the second release by his hard-swinging acoustic quintet – Inside Straight.
---
Norma Winstone Trio
Monday, June 23 — 8:00
This trio fronted by British vocalist Norma Winstone and features pianist Glauco Venier and Klaus Gesing on woodwinds. They've got an etherial, ballady vibe. This will be a smooth way to cool off after McBride the night before.
Norma Winstone was born in London and first attracted attention in the late sixties when she shared the bill at Ronnie Scott's club with Roland Kirk. Although she began her career singing jazz standards, she became involved in the avant garde movement, exploring the use of the voice in an experimental way and evolving her own wordless approach to improvisation. Her current group is a trio featuring Italian pianist Glauco Venier and German saxophonist/bass clarinetist Klaus Gesing.
---
Rudresh Mahanthappa: GAMAK
Tuesday, June 24 — 7:00 & 9:30
"Second-generation Indian-American" saxophonist Rudresh Mahanthappa has put together a band consisting of his favourite musicians and colleagues, blending jazz and Indian styles and beats into one seamless sound. I'm a sucker for Eastern vibes in jazz, and I predict this show is going to step well outside of the typical, straight-ahead box. Check out the video below to see what I mean.
Few musicians share the ability of saxophonist/composer Rudresh Mahanthappa to embody the expansive possibilities of his music with his culture. What has materialized is a sound that hybridizes progressive jazz and South Indian classical music in a fluid and forward-looking form that reflects Mahanthappa's own experience growing up a second-generation Indian-American.
---
Lorraine Klaasen
Wednesday, June 25 — 8:00
We swing back into world music with Lorraine Klaasen, or more specifically, "township music". One of "the most important female vocalist to emerge out of South Africa", Klaasen's style floats between an Afrobeat, rootsy, and traditional South African taste.
Lorraine Klaasen, the daughter of legendary South African Jazz singer Thandie Klaasen, is one of the few South African artists who have preserved the classic sound of 'Township Music', which continues to be the most distinctive sound to come out of South Africa. Born and raised in Soweto, Lorraine has electrified audiences worldwide with her dynamic stage presence and showmanship. Her latest CD 'A Tribute To Miriam Makeba' which won Lorraine the 2013 Juno Award for World Music Album of the Year, is a tribute to the legendary songstress, who remains the most important female vocalist to emerge out of South Africa.
---
Royal Wood
Thursday, June 26 — 7:00 & 9:30
Royal Wood is the only Bassment show this season to deviate from the jazzier side of things. You all know him and love him. His poppy, indie sound will serve as a bit of a reprieve before launching into the two big-name jazz acts that will close out the festival at the club.
Royal Wood has laid the foundation of his career by writing honest music to much critical acclaim. With the release of We Were Born To Glory he continues to win each fan through the intimate connection only a truly great songwriter can make with his audience.

It has been a road of accolades and accomplishments leading up to now. In 2008, Royal was crowned Songwriter of the Year by iTunes and in 2011 his album The Waiting earned a Juno Award nomination for Songwriter of the Year –further establishing him among the elite of Canadian songwriting. He has also landed several major placements in TV shows like Grey's Anatomy and Private Practice.
---
Brandi Disterheft Quartet
Friday, June 27 — 7:00 & 9:30
Brandi Disterheft is one of Canada's finest jazz musicians and one of the best bassists you could ask for. Whenever her name comes up, you see a quote about her from Oscar Peterson: "She is what we call serious." Enough said? She and her quartet will undoubtedly bring the house down, so don't miss this one.
Bassist and composer Brandi Disterheft is fast becoming one of jazz's brightest lights. Brandi's premiere album, Debut, won her the 2008 JUNO award, and her CV already catalogues successful concerts as far away as Japan and Haiti, and at jazz festivals from Vienna to Chicago, and a performance at Carnegie Hall. It's not only her fiery bass playing and charismatic performances that make people take notice. It's also her innovative writing style, informed by various influences, from Mingus to Björk. As Oscar Peterson said, "She is what we call serious."
---
Nels Cline & Julian Lage
Saturday, June 28 — 7:00 & 9:30
Nels Cline and Julian Lage cap off the Bassment's Jazz Festival series with a duet performance. These two are some of the most talented, passionate guitarists in the world. Have a look at Lage's list of tour-mates below to get a taste of his pedigree. Magical things happen when two musicians like this sit together and feed off each other on stage. It'll be a great way to cap off the club's festival season.
The guitar duo of Nels Cline and Julian Lage features compositions by both players, along with a healthy amount of spontaneous improvisation.

Guitar master-explorer Nels Cline should need no introduction having held the guitar seat in Wilco for nearly 9 years and counting. His recording and performing career – spanning jazz, rock, punk, and experimental – is well into its fourth decade, with over 130 recordings, including at least 30 for which he is leader.

Julian Lage has toured and recorded with Gary Burton, Jim Hall, Fred Hersch, Bela Fleck, Mark O'Connor, and many more. Originally from the Bay Area, Julian has released two critically acclaimed albums as a leader including Sounding Point and Gladwell. Sounding Point was nominated for a Grammy Award and DownBeat Magazine recently named Julian a "Rising Star Guitar" winner.